Thanks Homesealed.
Bad cell phone photos.
This is across the top. You can see that they started at the bottom of the left side of the radius and then continued across to the bottom of the right of the arch. Top of arch just about touches the soffit, and the soffit with the oversized gutter extends about 22 inches. Radius of arc is just about 22 inches. So only a wind driven rain will have a chance to touch these caps.
Here is a photo looking down on the right side. As you can see the seems are up, and there is no sealant.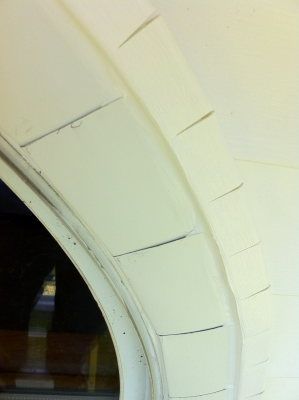 Water tight as the owner stated?
This window is not his best work! Sloppy cuts, etc.
As far as the gutters... I put a 6 foot level on the gutter and it drops about a 1/4 inch per 6 foot. Seems the beam saged a bit in the middle asthe beam definately goes up a bit at the end. I gather considring the above that this is the way it is going to be.